Stablecare has been a succesful business for over twenty years. Based in the historic racing town of Newmarket, we provide a daily laundry service for the racing and veterinary industries.

We also provide a collection and delivery service for livery yards, stud farms, tack shops, feed merchants and private owners from East Anglia through to the Surrey area on a fortnightly rota. Cleaning, repairing and re-proofing all types of horse rugs and associated items.

We take pride in our quarantine work for IRT (International Racing Transport) and BBA (British Bloodstock Agency), ensuring all horse and riders equipment is disinfected and certified before travelling abroad. Not only do we provide a laundry service for the equine and veterinary industry, we also do the laundry for our local Rugby Club each week and clean the harnesses for a outdoor leisure centre in Thetford Forest (Go Ape).

More recently we opened a shop upstairs in our unit, selling equine products including: Rugs, headcollars, grooming kits, boots, wellies and much more. All our products can be found on the shop section of our website. In addition we are now able to provide an in-house embroidery and tack repair service.

A long serving, hardworking team is behind the doors of Stablecare and we endeavour to work to your convience.
Derek Howard – Director
Focuses on repairing all rugs that are brought in to the best standard and price.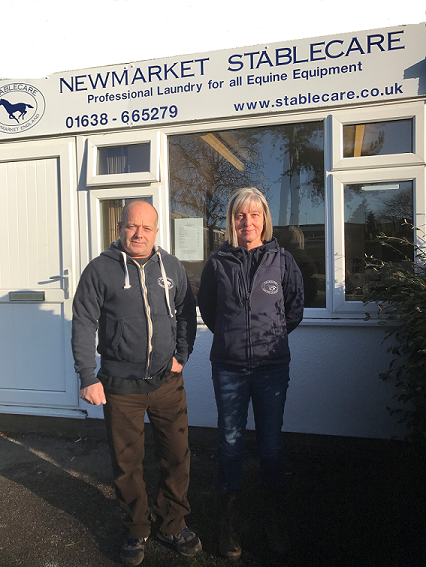 Mandy Adams – Director
Based in the office and in charge of the day to day running of Newmarket Stablecare. If you have any queries, please contact Mandy.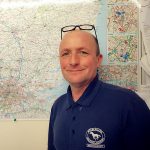 John Adams – Van Driver and Sales Manager
Collecting and delivering rugs and laundry daily. As well as promoting our new shop and selling our equine products.
Shane Jenkins – Laundry Operative and Van Driver
Shane has worked for us for over ten years. He is a reliable, hardworking member of staff.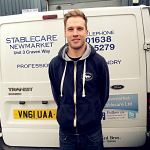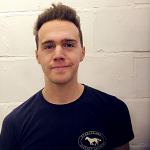 Jason Jenkins – Laundry Operative and Van Driver
Jason ensures all the washing is completed by the end of the day and taken back to the yards on time.
Sharon Granger – Laundry Operative
Sharon works in the unit full time ensuring the laundry is kept on top of. Sharon will also tag in your rugs and take your details.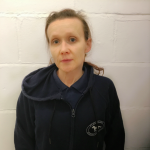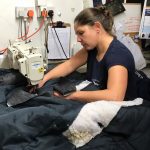 Kerry Tate – Embroidery and Leatherwork
Kerry does all the embroidery work, leatherwork repairs and also helps Derek repairing rugs.
Sophie Howard – Laundry Operative and Van Driver
Sophie joined the team full time in 2018.  Sophie can be seen on our van runs, and regularly sorting the rugs, for repair, and rugs that are ready for delivery.
Nicola – Laundry Operative
Nicola is our newest memeber of staff. Coming from a horse racing background, Nicola works part time with us and is dilagent and hardworking team member.
Great service and great prices.
Mel Bradley
Total recommend, great service given at all times.
Teresa Claire Wray
Thanks so much, great service, some rugs came back and looked that good i didn't recognize them! Would recommend and will definitely use your services again! 
Sian Rees
Lovely hassle free and great price service. Thank you.
Joanna Hack, Surrey 
I have just recieved our rugs back from you today and wanted to thank you for the excellent service that you provide and for arranging to collect and deliver my ponies rugs from my home address. 
Nichola, Woking (29/08/2018)
Fantastic service.. nothing is too much trouble, rugs are turned around quickly and everything done to a very high standard
Mia Palles-Clark, Suffolk (15/06/2018)